What Are Some Great LinkedIn Content Marketing Strategies In 2023?
LinkedIn is one of the great social media platforms for Content Marketing.
It's a valuable platform for establishing your brand as a thought leader and business expert in your industry, as well as for directly reaching an audience that can become loyal customers.
In this article, I'll cover:
What are some Great LinkedIn Content Marketing Strategies In 2023?
If you are a LinkedIn member, you can become a content marketer on the platform.
About five years ago, LinkedIn opened its publishing platform to all participants, allowing them to publish their blogs directly and promote their content on LinkedIn's network and beyond.
Although LinkedIn is primarily a B2B social media platform, it can benefit from being published on both B2B brands and B2C brands. Virgin executives (including Richard Branson), GE, and Microsoft published on LinkedIn.
There are two ways to post on LinkedIn. The first is a LinkedIn publisher, where a LinkedIn member can write an article in a long-form (usually between five and seven paragraphs) and share it with the LinkedIn network. The second is the LinkedIn status, that's perfect for short, concise updates and messages.
1. Posting articles to LinkedIn is still relevant, but …
In recent years, reach from articles has decreased.
Looking at the statistics from personal experience and other clients and colleagues, it becomes clear that status updates on the short form receive more comments and messages than articles on the long form of LinkedIn.
Short status updates get more comments and messages than long content.
However, a content marketing plan that includes both LinkedIn blog posts and status updates is a sound strategy. Use status updates to read messages quickly and easily. Describe it in detail about twice a month in the long publication form of the LinkedIn publisher.
2. The video is getting traction
LinkedIn gives you the ability to update the video status directly on the platform. Alternatively, you can add videos to the company page updates and your LinkedIn profile. This is a dynamic way to engage your audience and make your content appear more.
Video is currently boosted by the algorithm.
3. LinkedIn is perfect for writing once, sharing several times
Do you blog elsewhere?
Share it via LinkedIn status message. But be sure to share the link in the comments, so that LinkedIn does not punish you for posting a link that gets the reader from LinkedIn. You are not only sending a new post to LinkedIn but also driving traffic to your site.
4. Use LinkedIn hashtags
LinkedIn hashtags are an underused feature, but it is an excellent way to reach people outside your network.
What are the best ways of using LinkedIn for Content Marketing?
Social media is a very strong platform for performing marketing actions. Sharing and posting content on social media channels gives it a boost and makes it viral soon enough. The considerable point is that content is worth enough to be passed in the hierarchy and made viral.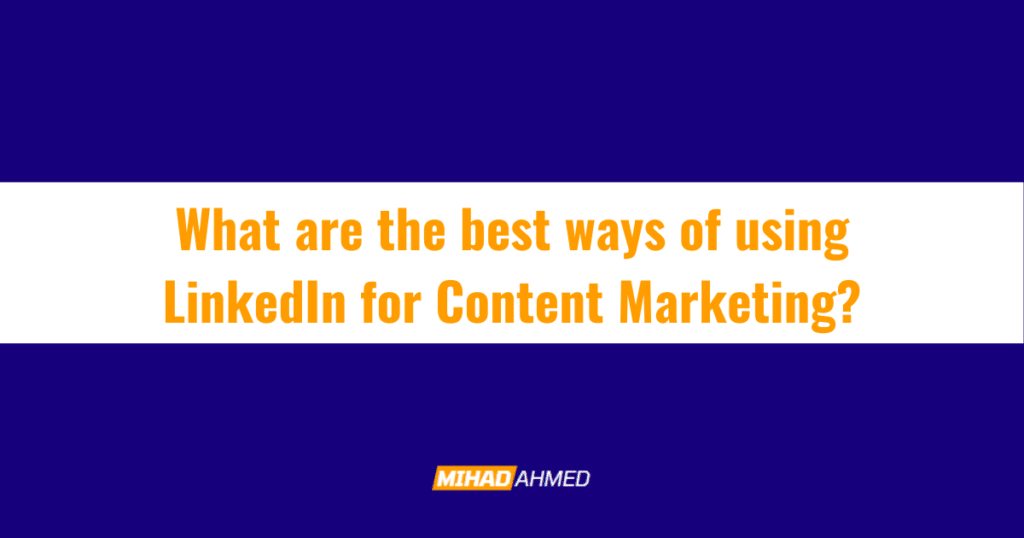 LinkedIn is one social media channel to enhance your professional aspect a lot. For this, your content should match the professionalism to get a better response. It is not a social media like Facebook where you share your personal life thoughts.
LinkedIn promotion is not a single-step process, a warm-up is necessary. Get your account ready first and then start the content sharing, as you need good viewers who understand your thoughts and appreciate them.
HOW TO USE LinkedIn?
Your profile describes you and hence it is very important to mention all possible professional details in an impressive way. It is not possible to create a non-traceable fake profile, so be genuine if you do not want to lose.
Understand your work and your position and accordingly make your connections. More connections help generate more business links and a whole new set of eyes on you. LinkedIn shows you options to connect to new people, based on your recent activity, profile, and current connections.
Regular Posts/Updates Sharing (Make it worth to be read and shared)
Now, as your profile is set, start sharing content in the form of updates, posts or informative images.
Avoid being a hard-core salesperson, instead, try to be informative focusing on how the associated product is important and what are the uses and benefits. Share posts associated with your profession and let these posts/updates draw attention from your connections thus making your brand popular slowly. This is a gradual process but could be long-term.
As the time passes and you have enough viewers, you may start direct product marketing to gain business from your connections. Another benefit is Word of Mouth or we can term it Mouth Publicity which helps generate references.
If you keep your content original, its more beneficial. Share your personal work experiences. Personal details of a work area grab a different set of eyes always.
Regular Interactions with Existing Connections
Dozens of new ideas are there to keep in touch with your connection which include:
Congratulation on new roles
Wishing happy birthday
Wish on completing certain set of years in an Organization etc.
These wishes and congratulation messages help others to remember your time and again. It's a kind of regular alarm without any botheration.
Use of Smart Tools on LinkedIn and Adding New Groups
LinkedIn serves multiple tools associated with Business Services, Marketing/Sales, Advertising, and other similar jobs. Use these tools one by one. Keep adding new groups and tools helps you to appear smart at your working desk and gives you more eyes.
How should you be using LinkedIn for Content Marketing?
LinkedIn is perhaps the most underrated social media platform that provides you with everything that any major social media platform has to offer.
Some companies and influencers are finally able to see LinkedIn as more than a recruitment platform. Whereas, the majority of us haven't figured it out yet. Learn how you can use LinkedIn content Strategy to increase your LinkedIn reach.
Let's take a look at five steps of building a LinkedIn content strategy to increase the reach on the platform:
Understand Your Brand Persona
Shape Your LinkedIn Content Plan
Post on LinkedIn More Often
Provide Value to Your Followers
Develop a Strong Community
However, the point is that if you want to amass attention on LinkedIn, you need to use the content as a pillar to establish your brand's structure.
Therefore, it leads us to build an actionable LinkedIn content plan to boost your LinkedIn reach, following, and engagement.
You don't need to be a social media marketing expert to pull this off. All you need is to be a little proactive with your questions, content sharing, answering queries, and highlighting people that can contribute to the community.
Moreover, a group on social media doesn't become a community unless you put in the work, stay consistent, and deliver value to the audience.
Is it better to make a post or an article on LinkedIn for Content Marketing Purposes?
The best way to make the most of your LinkedIn presence is by using a combination of both — but it's important to know the difference and use them correctly.
Posts are for short updates and sharing content from other sites. Most people use posts to share links to content like blog posts and news articles, both from their website and industry publications. Posts can also be brief updates (much like Facebook statuses) with text and a photo, but this type of update is unlikely to have an impact on your content marketing efforts.
Articles are lengthier pieces of content (much like blog posts) that are published directly on LinkedIn's publishing platform. They include a headline and multiple paragraphs of information, and can be formatted using headings and bulleted lists. Articles are typically at least 300 words, and could stand alone as blog posts.
Both will show up in your followers' newsfeeds, and are virtually identical as they scroll.
For example, this is an article that I have published directly on LinkedIn:
… and this is an article that I have shared from my blog:
The two are virtually indistinguishable in users' feeds, as the only difference is that articles are published "on LinkedIn."
If a user clicks an article, they'll be able to read it directly on LinkedIn's publishing platform. If they click a piece of content shared in a post, however, they'll be taken to the site where it was published.
So, Which is better for Content Marketing?
It depends on what your goals are for the piece of content.
If you're looking to build your audience and influence on LinkedIn, articles are the way to go.
If you want to drive traffic to your site (and rank for keywords related to a specific topic), publish the content on your own site and share it in a post.
And if you want to develop a well-rounded online presence, do both. A balance of LinkedIn articles and links to outside content is the best way to build your network on the platform while driving traffic to your site.
How do you Market your Articles on LinkedIn?
As AJ Wilcox said, you have two basic strategies: publishing native LinkedIn posts and using LinkedIn as a way to call attention to the content you publish elsewhere.
Going beyond the basics, the question is how to best use those strategies. A lot depends on what kind of content you hope to market, whom you're targeting, and what kind of network you already have.
LinkedIn as a platform tends to favor general-interest professional content. If you look at my posts, you'll see that the ones with the most views tend to cover popular topics like Web & Marketing. In contrast, my more specialized posts about query understanding attract a significantly smaller audience. That smaller audience, however, tends to include the people I'm most interested in reaching and influencing.
And, whether you're publishing general-interest or specialized content, make sure you're optimizing for your reader. Keep it short. Have a strong opening — don't bury the lede. Show enough personality not to be boring, but don't take it so far that no one takes your seriously. Write stuff that people want to read.
LinkedIn also tends to favor content with pictures. If you publish a native LinkedIn post, be sure to include a picture at the top. If you share content on LinkedIn, look at the snapshot that's included with the link. Ideally, it includes a decent-quality image, a well-formatted post title, and a sentence or two to entice the reader.
Finally, it's hard to obtain much distribution if you don't have a strong network. If you're doing everything else right but no one is seeing what you write, then you need to figure out how to strengthen your network. My recommendation there is that you focus in a niche until you obtain traction, and then try to broaden from there. Better to be a big fish in a small pond than a minnow in the ocean.
How can you measure the success of your Content Marketing on LinkedIn?
LinkedIn is a great platform for content marketing. And, there are a ton of different ways that you can measure the success of your content marketing efforts. Here are a few of my favorite LinkedIn stats, but the stats that you look at will depend on the type of content that you're sharing.
1. Visitor Analytics: You want to ensure your content and company page are reaching the right people. Under "Analytics > Visitors" you can get an overview of who is the most interested in your content.

2. Competitor Analytics: This unique function will compare how your company is doing compared to your competitors. It includes total followers vs new followers, posts, and post engagements. To view this click "Analytics > Competitors".
3. Acquisition: The ultimate goal with content marketing is to drive people to visit your website, and hopefully convert. So, in your Google Analytics account, check out how many visitors are acquired via LinkedIn.
Conclusion
I have provided some tactics that you can use to improve your LinkedIn marketing and the results of your content marketing strategy. The key is to use the tools that are available to you. You can gain access to all of these features by signing up for a LinkedIn account if you haven't already, or even upgrading your current account.
As long as you stay consistent with posting updates on LinkedIn—and try out different types of content as I've outlined above—you'll soon be well on your way to improving your visibility and reputation among potential customers.
If this guide helped, please share it with someone who might benefit from my information!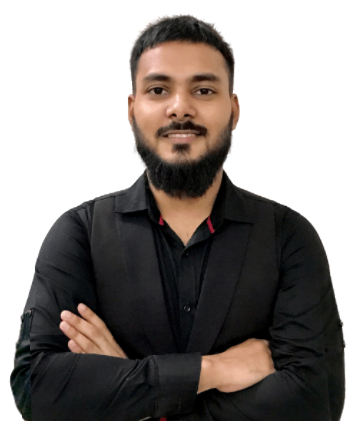 About Mihad Ahmed
Mihad Ahmed is a Professional Web Designer & Marketing Specialist. He was the Founder of The Brothers Soft Company. He is recognized as a top 100 Website Specialists under the age of 30 in Asia. He has worked with startups, small businesses, non-profits, and large corporations to provide professional and reliable website design with measurable results.