If you landed on this SEO page, you most likely did a Google search for SEO.
You found Mihad Ahmed because he practice what he preach and understand the most
important ranking factors on Google. He offers his custom SEO strategies to rank you on Google.
Dear Business Owners,

My name is Mihad Ahmed. I am a Professional Web Designer/Developer and SEO specialist.

SEO has become quite the trendy acronym amongst aspiring 'entrepreneurs', 'gurus' and 'digital marketing experts' amongst other fly-by-night snake oil salesmen. It is a buzzword that is often used to convince someone that they know what they're talking about without carrying any weight behind their words. I however have been proudly providing quality SEO since 2015. As an authority in SEO many would expect that I may take offence to the fakers, however I see it as a chance to educate my clients and the world. I use it as an opportunity to show the light!
SEO: It's all about return on investment
Underquoting an SEO client is a surefire way of getting the worst return on investment possible.
This is because SEO is an ongoing competition. It is a search engine ranking race where the goal is to not simply finish first, but to remain at the front of the pack; to influence the direction of those behind you.
Assuming there are many in front of you, it is important to understand just how fast you have to run to surpass the competition. If you keep running at the same speed you will never catch up.
Your investment in SEO is what will determine your speed and your ranking. You want to run faster?
Invest more! More budget means more time. Akin to a personal trainer, the more time you spend, the more progress you will see.
If you are investing $200 a month, and those ahead of you are investing $2500 a month, how are you supposed to surpass them? You cannot. It is important to calculate work on your speed so that results can be guaranteed.
If you were to invest $2000 a month, you could open up many avenues to revenue and strategically place yourself at the top of Google. With active leads and an additional $10,000 – $50,000 coming in, you would have an excellent return on investment.
DID YOU KNOW THAT MY CLIENT RANKED #1 ON GOOGLE
I provide white hat Search Engine Optimization (SEO) services that have stood
the test of time – since 2015 to be exact. My custom SEO strategies are
extremely powerful and proven to rank your website at the top of Google.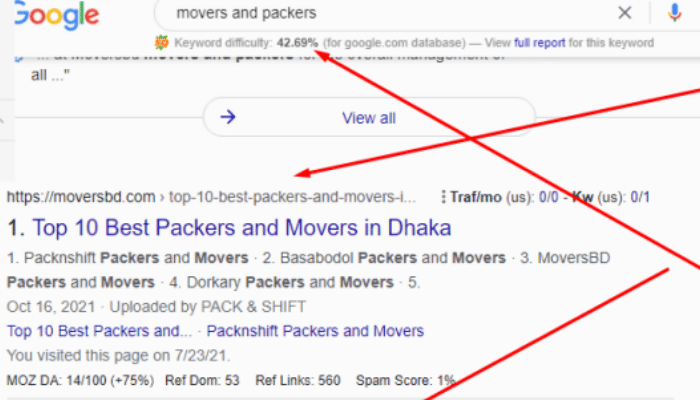 3 STEPS TO RANK HIGHER ON GOOGLE
I live and breathe Search Engine Optimization. No really, I do. I ditched the smoke and mirrors, secret SEO
recipes to success and decided very early on to be the best at what I do. I used my talents, to create my
values, my structure, process and custom digital marketing strategies.

1. SCHEDULE A CALL
When you're not seeing the Google rankings and the success you want in your business, it's time to talk to an SEO Specialist.
CUSTOM STRATEGY
During the call, talk about your goals. Before you hang up, you'll have the outline to a strategy that will lead you to improve your rankings.
3. HIGHER RANKINGS!
Start generating more traffic and more interest in your business. It's 2021 and time to get a positive return on your investment.
FREQUENTLY ASKED QUESTIONS
Here are some of my most frequently answered Search Engine Optimization questions and answers.
FEEL THAT TINGLING IN YOUR FINGERTIPS?
Contact Mihad
Use the form below to contact me. I'm look forward to learning more about you,
your organization, and how I can help you achieve even greater success.